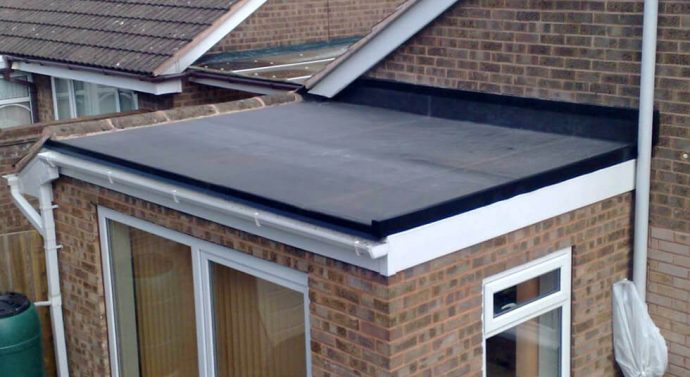 As with any roofing system, there are advantages and disadvantages. One might be better for a specific situation, while another might be cheaper to install. Below, we discuss what an EPDM roof is, and the pros of one.
EPDM, commonly known as a 'rubber roof', stands for ethylene propylene diene monomer. It is an extremely durable synthetic rubber roofing membrane. Although it is most commonly used on low-slope, also known as flat roof, commercial buildings, it is also used for residential purposes such as on car ports and patio roofs.
EPDM is available in either black or 'white'. The 'white' version of EPDM is actually an additional layer on top of the existing EPDM layers.
EPDM comes in widths ranging from 7.5′ to 50′, and is available in 45 mil (1.1mm), 60 mil (1.5mm), 75 mil (1.9mm) and 90 mil (2.3mm) thicknesses.
The layers of an EPDM roof:
White (Top layer. optional), the white-on-black layer that reflects sunlight
FRM EPDM (Top layer), the layer reinforced with polyester fabric for greater strength
AFR EPDM, the fire retardant layer
EPDM (bottom layer), the elastromeric layer
What are the advantages of an EPDM roof?
Least expensive to install
By comparison to TPO and PVC, EPDM is the least expensive commercial roofing system to install. For example, a 2500sf EPDM roof would cost around $5.5/sf to install. That same roof with a TPO roofing system will cost you roughly $7/sf. PVC, $8.5/sf. (figures do not include material)
Least expensive to repair
Because EPDM rolls are wide and long, there are fewer seems to fail, compared to asphalt shingles or metal sheets. As a result, the potential leaks that might occur are rare, especially with a thicker membrane, such as 75 or 90 mil, or if the roof is ballasted.
Longest lasting
EPDM is the longest lasting of the 3 commercial roofing systems we offer. Most owners enjoy 30 years or more out of their so-called rubber roof. A properly, professional installed, well-designed and constructed EPDM roof will outperform almost any other roofing system.
Light-weight
At only half a pound per square foot for 60 mil, fully-adhered, membrane-only EPDM, it's significantly lighter than your average asphalt shingle, which weighs roughly 2.3lbs per square foot.
Fast and easy to install
Because EPDM is manufactured in large sheets or rolls, it is quick and easy to install. A common EPDM roll size is 10′ wide and 100′ long. Compared to asphalt shingles, which are roughly 3′ wide x 1′ tall. Instead of placing each asphalt shingle one at a time, you simply roll-out EPDM – you can cover more area faster.
Hail, ozone resistant
Since EPDM is essentially rubber, hail stones simply bounce off. If you live or work in an area that gets a lot of large hail stones, you should opt for the thicker 75 or 90 mil membrane, and possibly a ballasted layer. EPDM has an ozone-resistant rating of 'A' up to 100º F.
Energy reduction
EPDM is a good option regardless of whether you live in a hot or cold region. In the cold North, you might prefer black EPDM due to it's ability to absorb heat and help warm the inside of your building, helping to keep your heating bill down. In the warmer South, the white EPDM membrane reflects the sun's heat and helps reduce heating bill.
Wide operating temperature range
It has a minimum operating temperature of -40º F and a maximum operating temperature of 300º F.
Fire-rated
With the addition of the AFR layer in the EPDM Roofers Essex product, the overall EPDM roofing system is fire-resistant.
High-wind resistant
Because EPDM comes in large sheets or rolls, and the seems are fully adhered, there are no edges for the wind to get under and pick up. Asphalt shingles, tiles and metal sheets, on the other hand, are manufactured in much smaller pieces and are more prone to being blown off.
Almost 100% recyclable (check your area)
Ultraviolet radiation resistance
Does not pollute rainwater