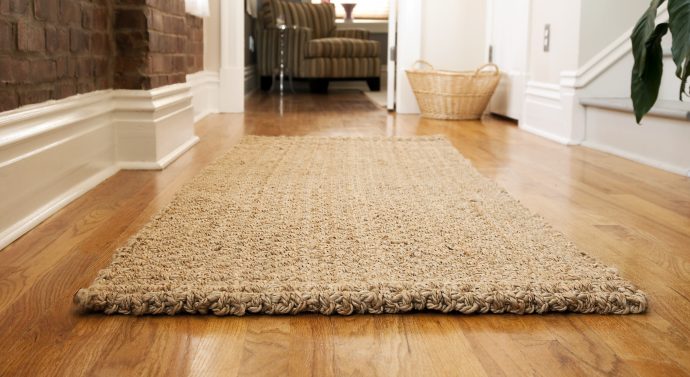 Jute rugs are one of the most well known and widely available rugs on the market today. They offer incomparable natural beauty to any space they occupy with their exotic texture. A jute rug is made from jute fibers from the plant, that are woven into beautiful floor coverings. The toughness of an jute rug is also extremely unique. Very few rugs can keep up with the tried and tested jute rug in terms of durability. The natural fibers of any jute rug are extremely reliable and almost maintenance-free.
The great things about a jute rug are endless, particularly if you are an environmentally conscious individual. Jute is a fast-growing plant, mainly found in Asia, on the subcontinent of India, that produces renewable fibers that do not harm the surroundings. Moreover, jute rugs are biodegradable and can be recycled.
One of the key reasons why many people buy jute rugs is due to their ability to incorporate that natural look that so few other rugs can. They are also pet-friendly and if you love the natural look, and soft touch to the foot, then you will surely love jute rugs!
Jute rugs have the natural property of seemingly blending in anywhere. The neutral colors of the rugs can make them easy to choose where the jute rug should go. If you feel that your room requires a bit more warmth, then a jute rug is the perfect home décor accessory to choose as it appears to incorporate just that extra coziness that few other rugs can offer.
Here's everything you need to know about Jute rugs, starting with the material itself!
What is Jute?
Jute is a bast plant. In its appearance, it's very similar to a willow. It is used as a textile fiber in products. This green material, fairly dense and durable, is used not only in the manufacturing of rugs but also as a fiber for bags and ropes. The plant is principally grown in Asia, but jute plantations are also common in Brazil. These regions are proven as high quality and constant suppliers of an excellent jute products.
Properties of Jute Rugs
Jute is a relatively coarse fiber, which means that when it goes through an comprehensive production process, it is well suited for many applications. Jute is suitable for rugs and industrial applications because of its toughness and durability. Most types of jute fabrics are loosely woven with thick yarn.
Although jute absorbs moisture easily, it dries quickly and is also very resistant to abrasion and stains. However, plant-based jute biodegrades relatively quickly and is well known for its long-term strength outdoors. Most types of jute fibers are light brown in color, but there are also some off-white varieties. Generally, white jute is considered inferior to brown, but white jute can be more useful in apparel applications.
Because jute fibers are thick and soft, they are usually easy to work with, and because they are long and unprocessed and shiny, jute yarn is relatively easy to make. Jute has high air permeability, but of course doesn't store much heat, which helps it be an excellent clothing material or flooring for hot and humid environments.
Advantages of Jute Rugs
The fiber of a jute rug is natural, soft and durable. Jute rugs are pet-friendly and relatively easy to clean up. In most cases, all that is required is a vacuum cleaner. As a floor mat rug, it can be perfectly integrated into a range of decorative styles, has an original brown color and can provide an area a natural vibe.
Jute rugs are slightly thicker than other natural fiber rugs such as sisal or seaweed – sometimes blended with chenille. The resulting rug is soft enough for children to play on the floor.
It's recyclable and biodegradable
As it's made of 100% natural jute fibres, the rug of course as sustainable and eco-friendly as it gets. Hessian (another name for jute), is an extended vegetable fibre, spun into coarse strands that is often used to make burlap fabric. Jute rugs are often handwoven using hessian and other plant fibres.
Easy to clean
Vacuuming gets a variety of dirt out of jute rugs, so they are simply pretty low maintenance. Regular vacuuming is all what it needs, to prevent dirt from lodging deeply within the fibres. If it gets stained, just spot clean the spill up immediately – but that's what you'd do with some other kind of rugs. In case you make use of it in halls with dirty shoes or you have small kids and/or pets they do get dirty, lik all rugs.
It never goes out of style
A little bit like expensive and antique Persian rugs… they never walk out style, their natural looks are always on trend – it has been surely for many years! They are cozy and warm, showing little ageing plus they age gracefully. Their natural look means they can blend well with several different styles.
It's cheap
My beautiful new jute rug costs only £119.- Which really is a very good price for an attractive rug. They are super affordable rugs for certain, actually jute rugs are usually a smaller amount expensive than other rugs of the same size.
It's durable
The regular wear and tear don't show as much on jute rugs as they do on other rugs. When we  mentioned it earlier: high traffic areas and halls are great spots to allow a jute rug. Because of it's thick, woven fibres jute rugs are very durable.